Succeed in event planning with the Shades Waves agency!
Whether you are an employee in retraining, an entrepreneur, self-employed, you are passionate about organizing Events, the Shades Waves agency is made for you!
Perfect your skills or start in the event industry
Shades Waves :
Brand license
by Vanessa Roussel
After a career in event planning in Paris in an American firm, moving to be closer to her family in the Var, and with over 7 years of experience in the world of weddings in France, DOM-TOM, and abroad, Vanessa naturally wanted to share her experience and expertise in the field of event project management with future wedding planners in France, Europe, and the world.
Vanessa is a dynamic, hyperactive woman while being discreet and curious about what life can bring. She loves traveling since her childhood, thanks to all her experiences and challenges faced in her professional and personal life, Vanessa now wishes to share her expertise with future entrepreneurs and independent professionals to accompany them in this beautiful adventure.
Living your passion: organizing events, being an event project manager or a wedding & event planner. The important thing is to practice your passion and live off of it!
You are about to embark on the adventure of entrepreneurship in a field rich in emotions, rigor, and challenges.
Having experienced the loneliness of entrepreneurship when facing the realities of the job, such as starting without support, Vanessa wanted to create the Shades Waves franchise license to form a close-knit team of entrepreneurs. You will be free to direct your activity as you wish and develop your turnover at your own pace.
WHAT DOES THE SHADES WAVES BRAND LICENSE INCLUDE?
Support for the creation of your company, self-employed or in Eurl, Sasu…

A theoretical training of 5 days in person, in the offices of the Shades Waves agency in
Hyères les Palmiers (83)

Access to the photo library of the Shades Waves agency

Support and coaching throughout your activity within the agency Shades Waves
The Shades Waves agency start-up pack for a quick start:

Flyers and/or business cards
Standard contract with the General Terms and Conditions
Training on the use of the WeddingPlan event organization software
A T-shirt with the agency name and shorts for installations
A navy blue dress (the agency's color)

Implementation of the Shades Waves agency's methods and processes for a few weddings after your training

The right of entry with the signature of a contract in order to access the universe of the Shades Waves brand license.
What are the reasons to apply?
Having a willing and dynamic entrepreneurial mindset

Being supported to avoid experiencing "the loneliness of the entrepreneur"

Benefiting from the operating processes of the Shades Waves brand license

Acquiring the right techniques and processes for success: sales, marketing, management…

Being part of a team while remaining independent
Obtaining good visibility on social networks quickly

Keeping a smile through all the ups and downs during the organization and on the big day

Never giving up in the face of a problem, there are only solutions!

Being resourceful, inventive, handy, etc…

Being multilingual is a plus!

Having empathy, knowing how to anticipate, manage time, stress, emotion and diplomacy
when dealing with our clients.
We are looking for motivated and inspiring profiles!
We welcome innovative and original applications by email at
welcome@shadeswaves.com or by mail, bus, plane, train, or carrier pigeon…
Apply to join the Shades Waves brand license and you will never be alone.
We expect dynamic and sparkling applications that convey the desire to succeed in this job with a touch of craziness, humor, and resilience to keep up with the hectic pace of the wedding seasons.
Having a taste for challenges, quick wit, and a winner's mindset are essential!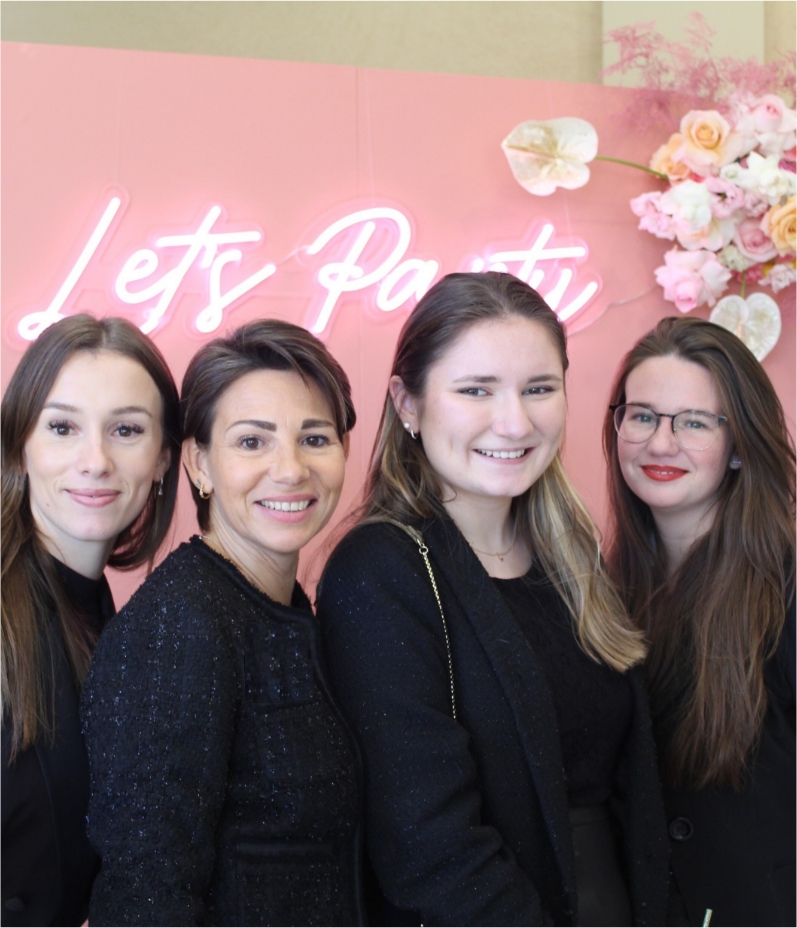 JOIN THE SHADES WAVES TEAM!